Winstar is extremely excited to announce our partnership with MicroSale POS Systems. After months of research, we have decided to partner with MicroSale for many reasons, one of which being their powerful yet simplistic interface. They also have a great price point, excellent distribution of dealers, and believe in the customer-first model, as do we. Through this partnership, Winstar and Microsale will offer discounted point of sale, no cost credit card processing via cash discount, integrated loyalty and gift card, and discounted payroll services.
"By partnering with Microsale, we will be able to offer our restaurant and hospitality customers the industry-leading pos solution at an incredible price point." -Rob Winokur, CEO Winstar Payments
"We are thrilled to be partnering with Winstar Payments, especially given the strategic alignment of the two companies. Our fully integrated solutions will help merchants best position themselves for today's competitive environment, including boosting employee productivity, reducing operating costs and increasing business through customer loyalty." -Ken Willis, Vice President MicroSale POS Systems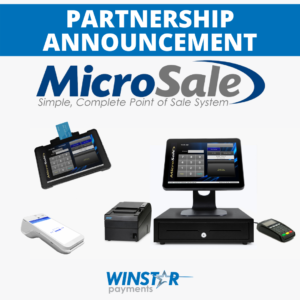 About Winstar: As an industry leading provider of payment services, Winstar Payments delivers fast, secure and innovative payment solutions to thousands of merchants from coast-to-coast. Our merchants range from local, family-owned businesses to larger corporate clients. We recognize that all client needs are unique – there is no "one size fits all" model for payment processing; therefore, we tailor our suite of services to the individual needs of our clients to enhance overall satisfaction.
As a single-source payments provider, we provide our clients with a comprehensive suite of innovative payment solutions, for in-person or online transactions, including credit, debit, E-Commerce, gift, checks, mail order/telephone order, Point-of-Sale (POS) solutions, and Mobile payments. Additionally, we continually invest in our people and technological infrastructures to ensure our clients realize an optimal payments experience. We pride ourselves on delivering the best services in the industry, as well as having the best talent in the customer care and technical support arena.
We always strive to deliver our clients and partners a low-cost, high-value payments package. That's why Interchange, assessments and fees are closely monitored and passed through at cost under full disclosure for all of our clients. In addition, all of our technology, data security tools, real-time reporting, data storage, US-based support, and dedicated relationship management are all included in a simple transaction fee. There are no additional charges for account set up, server licenses, system upgrades, enhancements, maintenance, redundancy or disaster recovery services.
About Microsale POS Systems: KIS Software Dba MicroSale POS is a hospitality focused software platform specializing in quick service, full service, bars, and pizzerias. With over 30 years in business, MicroSale serves over 95 certified resellers and independent sales organizations throughout the United States and Puerto Rico.
MicroSale provides an affordable and complete POS solution with advanced features such as mobile ordering, kitchen displays, menu boards, online reporting and remote management. MicroSale is a PADSS Certified application using EMV chip technology through PAX Technologies and Datacap. As a complete all-in-one solution, MicroSale is certified and integrated to QuickBooks Online, OLO Online Ordering, HotSchedules, BERG Liquor Control, and InterCard Gaming.