Winstar, a leading payment solutions provider, announces its partnership with Axiom Bank, N.A. to provide payment services for commercial clients. Under this partnership, Winstar will offer secure and innovative, credit card processing solutions to Axiom Bank's business customers, along with one-on-one sales and service.
"We're very excited about our partnership with Axiom Bank. This underscores our commitment to being a partner-centric company. Axiom Bank's experienced team and consultative approach provides maximum value to its customers, and by extension, ours. Our strategic partnership will focus on building long-term successful relationships with all of our customers." -Rob Winokur, Winstar Payments CEO
"Axiom's partnership with Winstar Payments further exemplifies our commitment to providing our customers with access to leading industry innovators. Our customers expect and receive the individualized care and commitment to their business; the services provided by Winstar Payments allows us to continue that initiative." -Dan Davis, Axiom Bank, N.A. CEO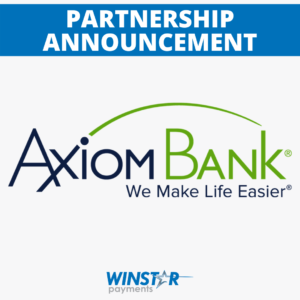 About Axiom Bank: Axiom Bank, a nationally chartered bank headquartered in Central Florida, serves the financial needs of its customers through a wide range of banking solutions and a commitment to exceptional service. The bank has a rich history dating back to 1963. By definition, "axiom" means "a universally recognized truth" – the name exemplifies the bank's principles of truth, trust, value, convenience, and service excellence. Axiom Bank holds the SBA Preferred Lender status, and specializes in commercial loans, treasury management and other merchant services. The bank also offers asset-based lending and invoice factoring through its division, Allied Affiliated Funding. Axiom is constantly working to expand its services and products and provides consumer banking through 12 branches, primarily in select Walmart Supercenters®, to conveniently serve local communities. Visit
www.AxiomBanking.com.
Member FDIC. Equal Housing Lender.
About Winstar: As an industry leading provider of payment services, Winstar Payments delivers fast, secure and innovative payment solutions to thousands of merchants from coast-to-coast. Our merchants range from local, family-owned businesses to larger corporate clients. We recognize that all client needs are unique – there is no "one size fits all" model for payment processing; therefore, we tailor our suite of services to the individual needs of our clients to enhance overall satisfaction.
As a single-source payments provider, we provide our clients with a comprehensive suite of innovative payment solutions, for in-person or online transactions, including credit, debit, E-Commerce, gift, checks, mail order/telephone order, Point-of-Sale (POS) solutions, and Mobile payments. Additionally, we continually invest in our people and technological infrastructures to ensure our clients realize an optimal payments experience. We pride ourselves on delivering the best services in the industry, as well as having the best talent in the customer care and technical support arena.
We always strive to deliver our clients and partners a low-cost, high-value payments package. That's why Interchange, assessments and fees are closely monitored and passed through at cost under full disclosure for all of our clients. In addition, all of our technology, data security tools, real-time reporting, data storage, US-based support, and dedicated relationship management are all included in a simple transaction fee. There are no additional charges for account set up, server licenses, system upgrades, enhancements, maintenance, redundancy or disaster recovery services. Our continued aim is to make partnering with Winstar Payments easy and we will work to earn your business every day.